Description
When you are looking for a vehicle GPS tracker that does what you want at a realistic price – look no further.
You can access your Tracker by Smartphone or PC. It is reliable, accurate and very easy to use.
If you want to track your own personal car, a small fleet of trade vans, or even large fleet of trucks or commercial vehicles the VT904 – MONGOOSE 4G GPS VEHICLE TRACKING will give you the tools you need to know where you vehicles are. The GPS Tracker will also give you access to the history of where that vehicle was and driving information such as speed, Ignition status, time parked and other details.
Some of the Main uses for the VT900 tracking is,
Where is it now  ?
Open the APP and click "Real time". The map shows where your vehicle is located.
Where was it  ?
History shows the route driven. Select 'play' and the screen shows the route taken.
Select any day – last 6 months history always maintained.
Got more than one vehicle ?
You logon with your own chosen username and password.
See all your vehicles at the same time.
Select individual vehicles to see more details.
Any other costs ?
Yes, possibly………………………..
GPS trackers require a mobile SIM card to be inserted into the tracker, this enables the collected data to be sent to the website so it can be viewed by the user.
Typical SIM costs on PrePay range from $2.00 to $10.00 per month depending on usage.
Sometimes the cost can be zero depending on your contracts with your mobile provider.
Otherwise a PrePay can be the least expensive but discuss options with your mobile provider.
The APP & Website – 2 powerful tools to view & manage your GPS tracker.
2 great features of our GPS trackers are the mobile APP and online website.
There are no fees, they are free to use.
The APP can be downloaded for Apple IOS or Android smart-phones or tablets.
For the online website, simply logon from any computer – no software to download.
APP and website have passwords (which you can change) to protect your privacy.
THE MOBILE APP :
Download and open the APP on your smartphone to logon using your trackers IMEI number (ID number) & password.
If you have multiple trackers, we can provide you with a 'user account' so you can view all trackers at the same time – or individually.
The APP is a powerful tool that allows you to locate, monitor, track and control your GPS tracker.
Multiple users of the APP & website is permitted.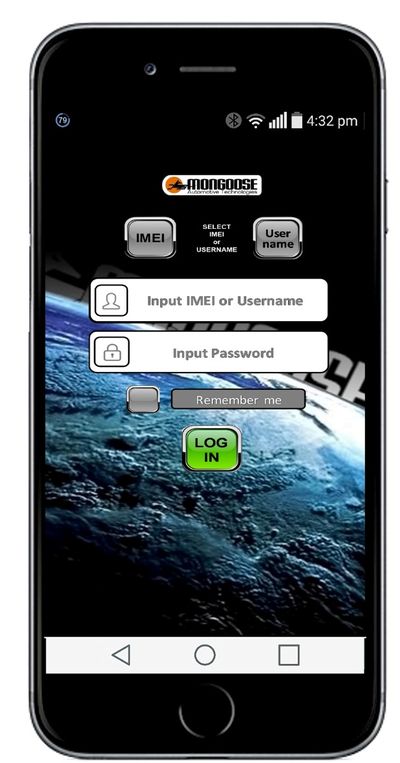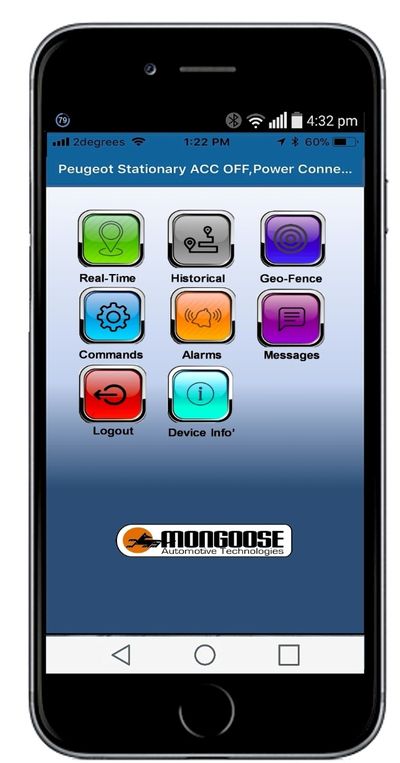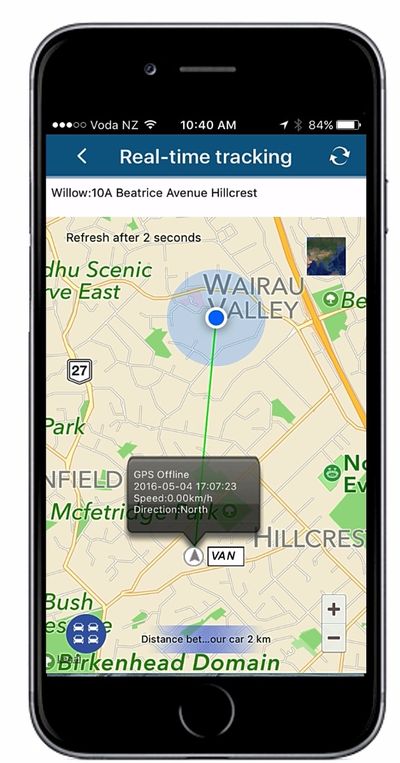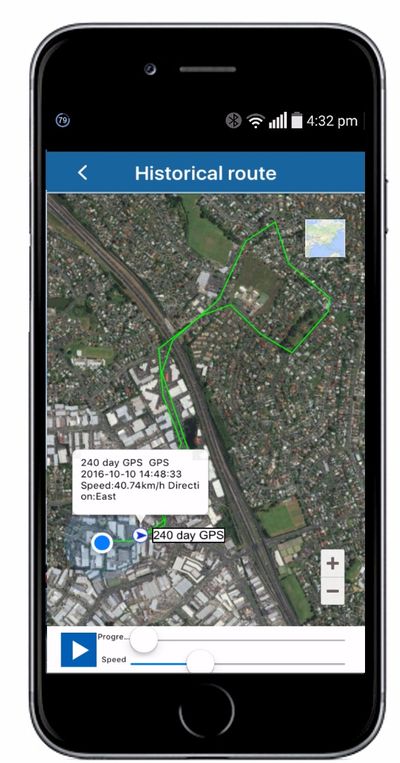 Logon Screen     Main APP menu    'Real Time'       History
'Real time' shows you the current or last reported location – compared to where your phone is.
It is displayed on the APP's own maps – map or satellite view.
REAL TIME VIEW ON WEBSITE FOR SINGLE USER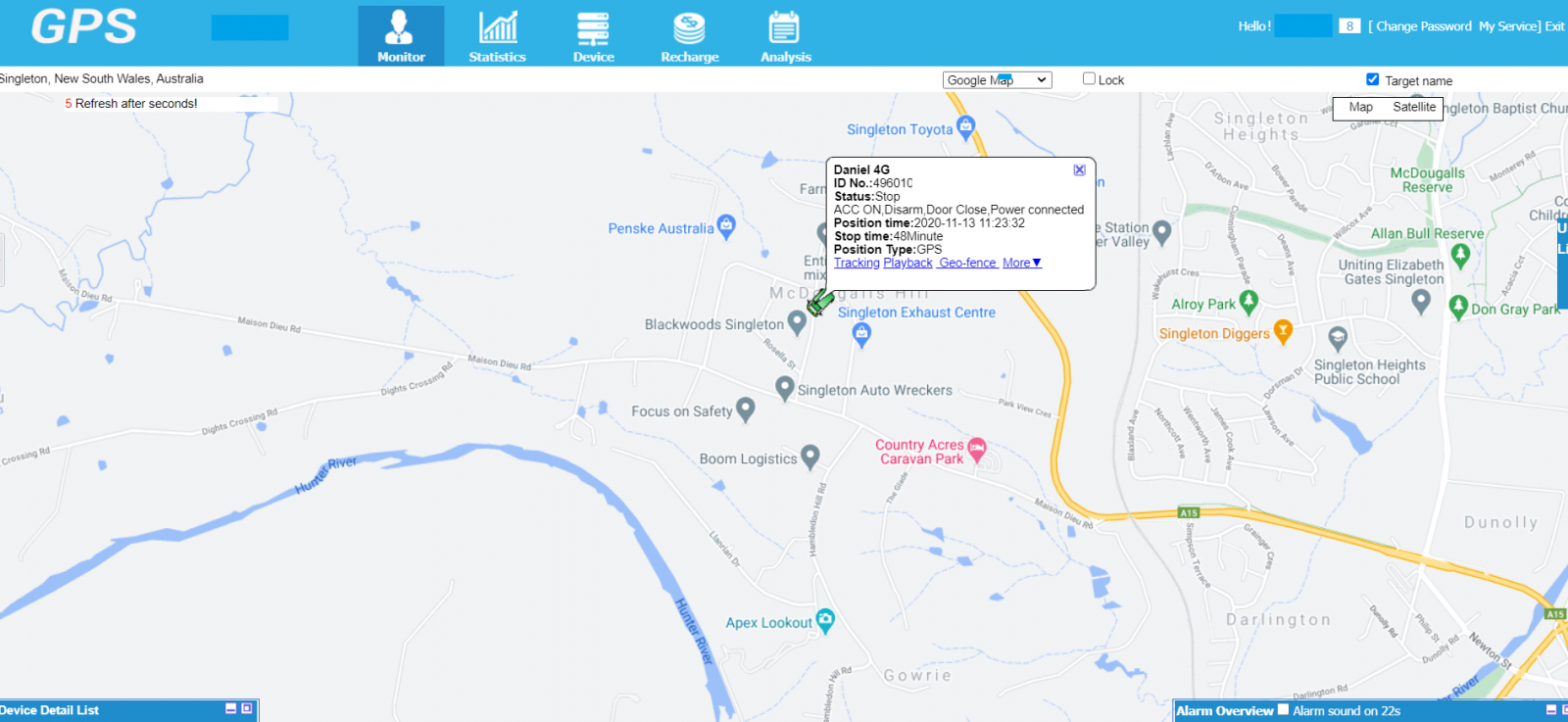 REAL TIME VIEW FOR GROUP ACCOUNT ON WEBSITE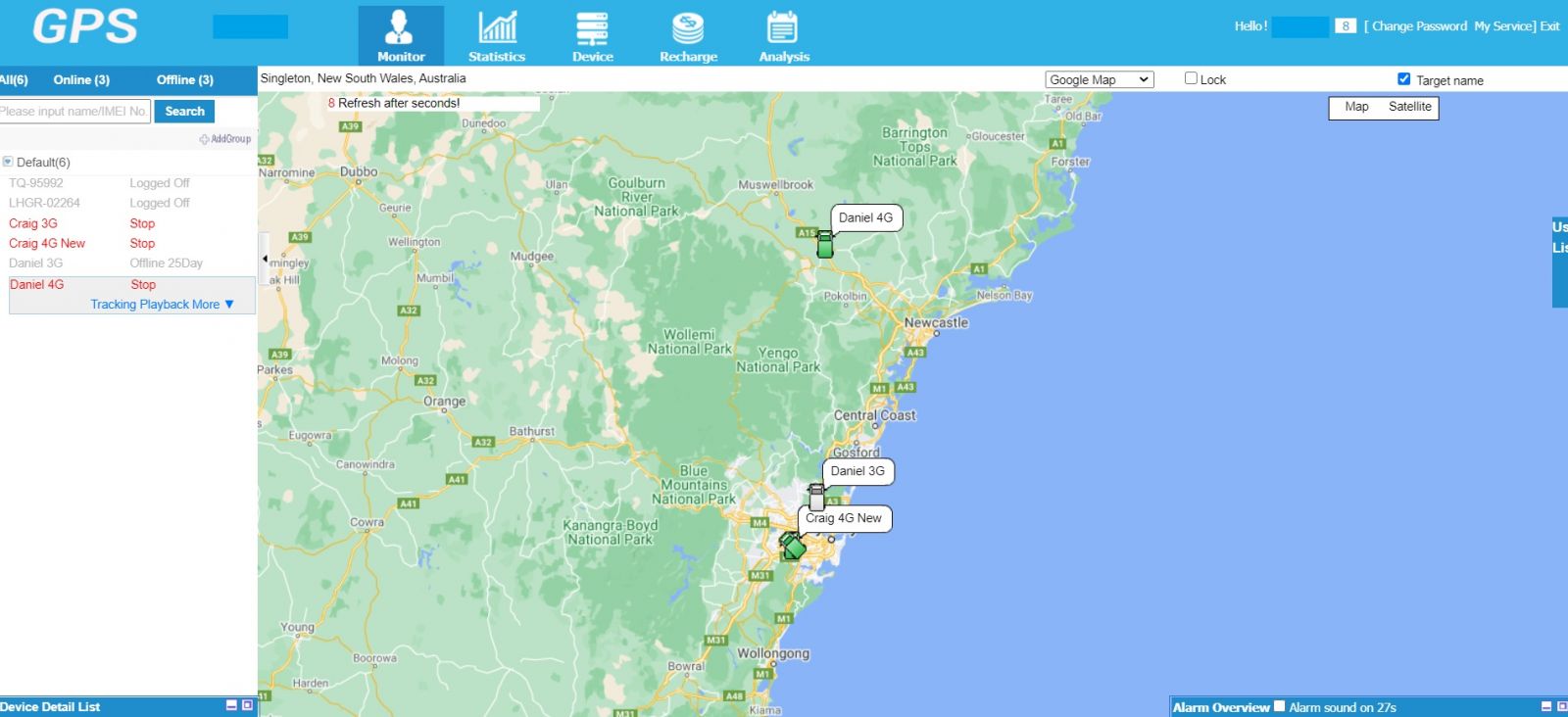 'History' playback allows you to select any day up to 6 months ago so you can see where the tracker travelled.
You can playback at different speeds, pause and zoom in to see more map detail. map or satellite view.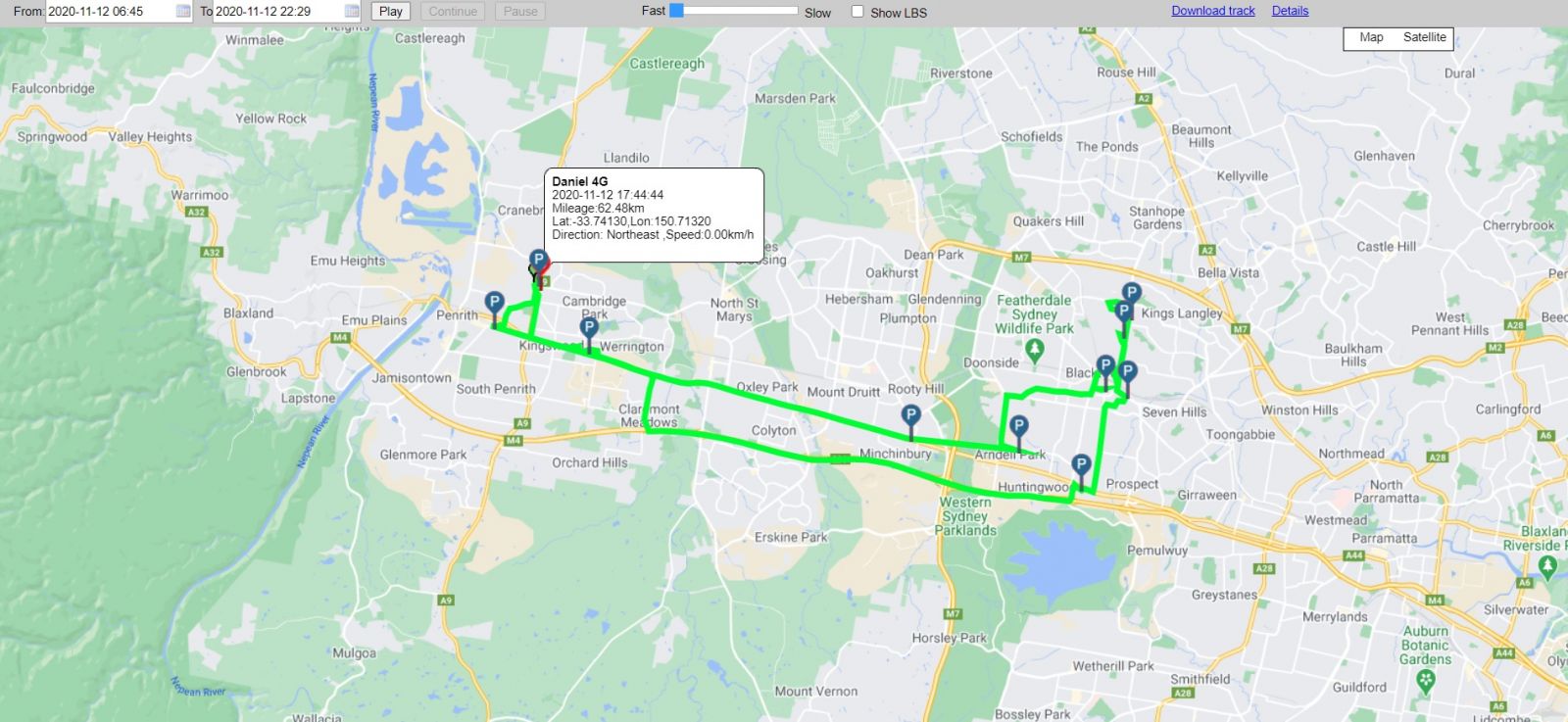 A 'geo-fence' is an invisible boundary. If the tracker moves in or out of the area, you can get a text alert.
A 'geo-fence' is easily set by moving the pointer around the map and then a slider to define how large the boundary is.
You can set multiple areas.
GEO FENCE SET ON WEBSITE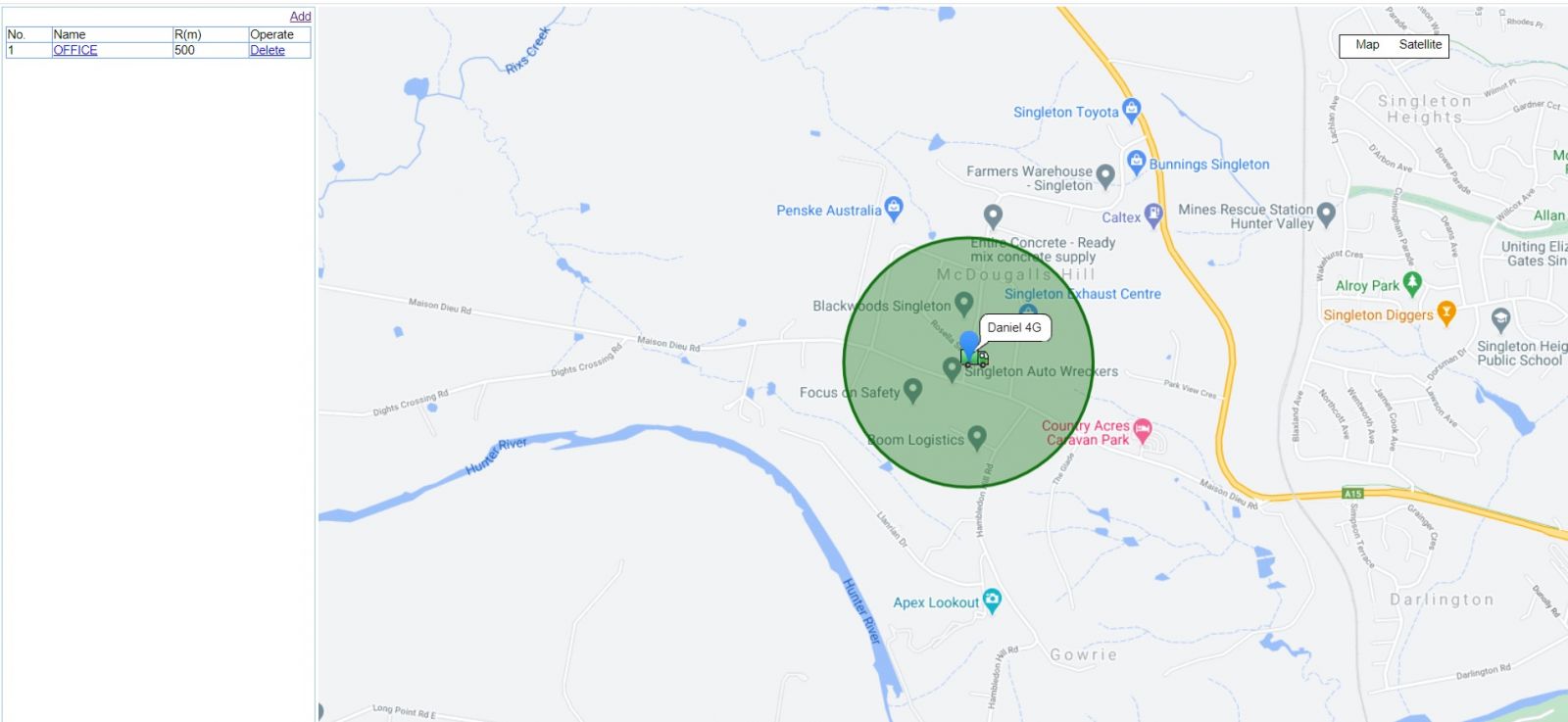 The 'issue command' panel lets you set tracker parameters.
THE ONLINE WEBSITE: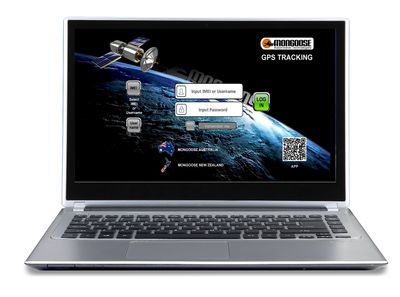 With the online website, you use the same logon details as the mobile APP.
Again, the website is free to use. No Access Charges from Mongoose
The website is usually used for more tracking details than the Smartphone APP and for printing travel reports. Otherwise, the mobile APP is used most of the time as it is so convenient.